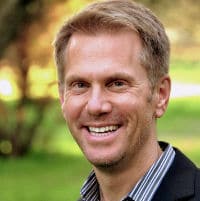 Research shows that optimistic salespeople outsell their pessimistic counterparts by 56%!
How much more productive would the people at your company be, if they were more positive, relaxed and fulfilled, while enjoying better personal lives and health?
I'd love to show you how happiness is a skill that you can develop.
I help companies see management training and culture in a radically new light, by teaching employees proven methods to build high-performance teams, achieve goals, and reduce stress.
What qualifies me to do this?
I worked as an English teacher in Frankfurt, a business journalist in Madrid, a phone salesman in the Bay Area, and a McKinsey consultant in Munich. After earning my MBA at Stanford in 1996, I gained priceless operational and leadership experience at pioneering Internet companies such as Yahoo (employee # 258), NextTag, BlueLithium, and Drawbridge. I managed through booms and busts, and hired countless people to develop innovative products globally.
But then, on February 5, 2013, my doctor called me up and told me I had cancer.
I'm grateful to say that my health these days seems good. But the experience of receiving this diagnosis forced me to face my mortality and think hard about my legacy. I had to make tough decisions about my livelihood, relationships, and how I savor every hour. Today, I feel happier, more fulfilled and more connected to the people and work that matter to me most.
As for my career — I realized that I had a unique perspective which could teach people how to be happier and more successful in their companies. I leverage a huge amount of research on the "science of happiness", ranging from mindfulness to positive psychology to neuroscience.
Today, I share what I've learned with organizations of all sizes through keynote speeches, highly interactive workshops and customized training programs. My talks aren't just inspirational—participants take away practical strategies, scientifically proven insights, and action plans on how to do the work that they love, and love the work that they do.
Interview with Jeff Frick — theCUBE